Common Mistakes People Make When Designing A New Kitchen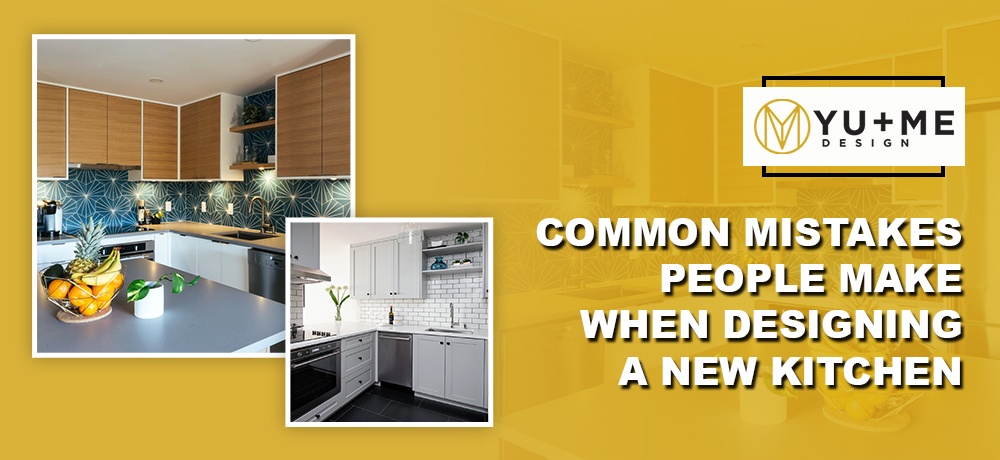 As the hub of many activities, from cooking to cleaning, dining, and socializing, kitchens are a vital part of every home. But, to accommodate these activities, a kitchen must be fully functional and also stunning. If you're looking to improve the aesthetics of your kitchen and add more functional value to this room, investing in a remodel is a great idea.
However, before you start dreaming of new colors, appliances, designs, and accessories, it's essential to consider your needs and strategically plan your designing efforts. That way, you can avoid the costly mistakes associated with prioritizing finishes over function.
To show you just how important pre-planning is to avoid costly design errors, YU+ME Design Inc. has put together a list of the most common mistakes people make when designing a new kitchen.
1. Not considering your needs or the functions of your kitchen
A kitchen is the center of your home where you and your family can get together and share your daily events. As a result, you need to think about how you and your family want to use your kitchen. Write down who uses this space, how they use, what function needs to be improved in this space, and how much your budget will be. By doing this exercise, you will have a clear understanding of your needs before designing a new kitchen.
2. Prioritizing feedback from family and friends
Very often, when renovating their kitchen or any part of their house, people like to ask for opinions and suggestions from friends and family. While they may have helpful recommendations, they will not be the ones using your kitchen every day. For this reason, you need to stay true to your needs. That way, you can have a perfect kitchen, which you can enjoy for many years.
3. Not budgeting properly
Once you prepare a budget, it's vital to stick to it and allocate your money accordingly. Write down what items you need to purchase, such as appliances, countertops, cabinet finishes, tiles, and flooring. Once you have a list, prioritize what you want to invest your money on. We usually recommend that you invest more in countertops because you will use these the most. Try to research different counter surfaces and styles before you decide which material is the best option for your requirements.
4. Not considering your future plans
Are you planning to have a baby or get a pet in the future? If you are, you need to carefully consider which materials you should use when designing your new kitchen. Certain materials are kid and animal-friendly while others are not. Keeping this in mind, before designing your new kitchen will help you appropriately accommodate your future lifestyle changes.
5. Ignoring the kitchen work triangle
The three points in the kitchen work triangle refer to your stove, sink, and refrigerator, which are essential for the functionality of this space. During the planning stage, it is necessary to remember that a distance of four and nine feet must be kept between each point. Similarly, avoid placing cabinets, appliances, or trash cans within the path of the triangle.
6. Installing poor lighting
For a truly efficient kitchen, you must have three different types of lighting installed. For general light, you can use recessed lights to illuminate the entire kitchen area. In the preparation section, you can install a task lights like track or pendant lights for brighter and more focused lighting. If you have cabinets, you can fit lights inside or under them for accent illumination that highlights your cabinets.
For more tips to avoid interior design mistakes, reach out to the experts at YU+ME Design Inc. We are an interior design firm in Vancouver, BC, with a unique set design and decorating services. We are passionate about interior design and enjoy the process of making spaces beautiful, functional, and practical. When you book a consultation with us, we take the time to understand your needs and lifestyle. Once we know your preferences, we then suggest different design elements to plan your requirements and interiors design.
To learn more about our services, please click here. If you have any questions about interior design, we'd love to hear from you. Please contact us here.
---
---